I thought for this week's bake, I would provide the recipe that I get asked to bake more than any other. It is actually quite a simple recipe but if you are a chocoholic, like I am, this is the most decadent Brownie you will simply enjoy and enjoy time and again.
The base Brownie recipe is my Mom's… its delicious, full of chocolaty taste, and oh so gooey. To Mom's Brownie, I have added some unique twists to take the bake up several notches and make it super yummy. I challenge you to put your own homemade Brownie up against this one and let me know how you like it. Simply email me at Jeffgthebaker@gmail.com and let me know what you think? Or comment below…
My Mom's Brownie was so comforting, and she made it for me and my sister ever since we were little kids. No matter when… these Brownies were there for us. When we came home from school, or from college, or when I was working and came to Mom's to visit, her beloved Brownies were always there for me. I still remember just how amazing they tasted.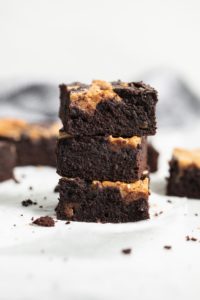 Ingredients:
1 cup plus 1 1/2 tbsp unsalted butter, cut into 3/4-inch/2-cm cubes, plus extra for greasing
2 Tablespoons Expresso Coffee
9 oz/260 g dark chocolate (70% cocoa solids), broken into 1 1/2-inch/4-cm pieces
4 large eggs
1 1/3 cups granulated sugar
3/4 cup plus 3 tbsp all-purpose flour
1/3 cup Dutch-processed cocoa powder
1/2 tsp salt
7 oz halva, broken into 3/4-inch/2-cm pieces
1/3 cup tahini paste
Directions:
Preheat the oven to 400°F. Grease your chosen pan and line with parchment paper, then set aside.
Place the butter and chocolate in a heatproof bowl over a pan of simmering water, making sure that the base of the bowl is not touching the water. Leave for about 2 minutes to melt, then remove the bowl from the heat. Add the Expresso coffee to this mix. Stir until you have a thick shiny sauce and set aside to come to room temperature.
Place the eggs and sugar in a large bowl and whisk until pale and creamy and a trail is left behind when you move the whisk; this will take about 3 minutes with an electric mixer, longer by hand. Add the chocolate mix and fold through gently with a spatula—don't overwork the mixture here.
Sift the flour, cocoa powder and salt into a bowl, then gently fold into the chocolate mixture. Finally, add the pieces of halva, gently fold through the mix, then pour or scrape the mixture into the lined baking pan, using a small spatula to even it out. Dollop small spoonsful of the tahini paste into the mix in about 12 different places, then use a skewer to swirl them through to create a marbled effect, taking the marbling right to the edges of the pan.
Bake for about 23 minutes, until the middle has a slight wobble, and it is gooey inside—they may be ready anywhere between 22 and 25 minutes. If using the 12 x 8-inch pan, they will need a couple of minutes less cooking time. They may seem a little undercooked at first, but they firm up once they start to cool down. If you want to serve them warmish (and gooey), set aside for just 30 minutes before cutting into 16 pieces. Otherwise, set aside for longer to cool to room temperature.
These will keep well for up to 5 days in an airtight container. They also freeze well, covered in plastic wrap, for up to a month. When you take them out of the freezer, they are uncommonly good eaten at the half-frozen, half-thawed stage.
*
Jeffery Giesener, former CEO of SourceMob, has both public and private company experience. Today, retired and enjoying life in San Diego, he's a freelance writer who has a passion for both cinema and baking his Mom's (Of Blessed Memory) European recipes.
Republished from San Diego Jewish World