When the Association of Jewish Libraries evaluates a book with Jewish content that it finds particularly good, it awards the author its Sydney Taylor Book Award after the author of the All-of-a-Kind series of books that introduced a Jewish family, with siblings who dressed alike, to America's non-Jewish children and to their parents.  The Jewish series was the first put on the market by a general publisher, thus breaking a barrier in children's literature.
In an exhaustive biography, author June Cummins enjoys comparing the contents of the well-regarded series with the events and people in the actual life of Sydney Taylor, whose identity evolved from her birth name of Sarah Brenner.  While still a minor, Sarah changed her name to the gender-ambiguous Sydney, and later, her husband, Ralph Schneider, changed his last name to Taylor, a  translation from German or Yiddish.
Beyond determining which stories in Taylor's chapter books for children were taken directly from her life and those of her siblings, Cummins also did a deep dive into Taylor's life – examining her roots as a child of immigrants on New York's Lower East Side (the beginning locale for the All-of-a-Kind series); her early attachment to socialist causes; her experiences as a camper, counselor, and subsequently an instructor; her life as a dancer under the tutelage of Martha Graham; her romance with Ralph and the stresses on her marriage because of her sexual reticence; her relationship with her daughter Jo and reaction to Jo's lesbianism; and her breakthrough as an author and subsequent struggles with editors, who frequently sought modifications of her work to increase their consumer appeal.
Through it all, we come to know Sydney Taylor as a woman of many contradictions; politically progressive, but willing to play a more traditional, even submissive, role in her marriage; a talented lecturer whose bookings took her throughout the United States, yet also a mother who worried that her busy life style hampered her relationship with her daughter.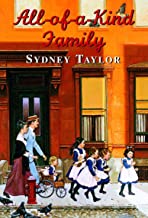 Sydney Taylor's books made their first appearance in the 1950s and she continued to produce them through the 1970s, albeit while encountering criticism from her editors that she needed to recast the simple and optimistic era that she wrote about to reflect the more modern reader's angst about Civil Rights, overseas wars, and other symptoms of anguished times.
The amount of research that Cummins compiled is astounding.  She had access to Taylor's correspondence and that of her siblings, as well as to Taylor's published works, and to documents relating to some of the major influences on her life, including America's socialist movement, Jewish camp,  choreographer Graham; and her husband's successes as a purveyor of pharmaceuticals and fragrances.
This is the first major study of Taylor's life and groundbreaking works, and is likely to become the standard, highly readable, reference work on an important author of juvenile fiction.
From Sarah to Sydney: The Woman Behind All-of-a-Kind Family by June Cummins with Aexandra Dunietz; Yale University Press; © 2021 by Jonathan Lewis; ISBN 9780300-243550;  383 pages including afterword, endnotes, bibliography and index.
Republished from San Diego Jewish World