Jewish Federation of San Diego County leader Jessica Effress is being honored with the nationally recognized 2022 Kipnis-Wilson/Friedland Award for her extraordinary involvement in our local community.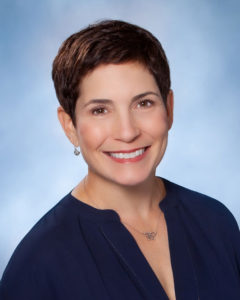 Jessica Effress has been an instrumental part of the San Diego Jewish Community since settling here with her husband and three children in 2005. She has participated in many aspects of Women's Philanthropy since arriving, including leadership development, committees, events, and much more. Jessica served on the Women's Philanthropy Board from 2006 – 2015, the National Young Leadership Cabinet (NYLC) from 2004 – 2010 and was a member of the Pauline Foster Women's Philanthropy Leadership Institute's inaugural cohort, which culminated in a women's mission to Israel. She has held leadership roles for the Young Adult Division Board, the Lion of Judah Endowment effort, co-chaired Options (the largest local gathering of Jewish women), served as an Israel & Overseas committee member, and led the Women's Philanthropy Leadership Development. Jessica also served on the 2020 Yesod Leadership Development Task Force to engage emerging leaders and strengthen seasoned leaders, and most recently, Jessica chaired the Jewish Women's Foundation Board from 2018 – 2021 and served as both a Trustee and Development Chair on the board of the San Diego Jewish Academy.
Jessica's leadership extends throughout the San Diego Jewish community and includes important roles at Jewish Joint Distribution Committee, San Diego Jewish Academy and Jewish Community Foundation. Federation President and CEO Heidi Gantwerk shared, "I have watched Jess flourish as a valuable community leader at multiple institutions and I can't imagine our Jewish community without her in it."
The prestigious, internationally recognized Kipnis-Wilson/Friedland Award is given to Lions of Judah who have demonstrated the highest ideals of leadership and involvement. A proud Lion since 2006, Jessica is part of the most dynamic philanthropic group of Jewish women in the world. They are strong women of all ages and an international sisterhood of thousands of global activists who care deeply about the Jewish future.
"To me, Jessica embodies everything that the KWF award stands for," shared fellow Lion of Judah, Naomi Harris. "Despite her young age, she has made an indelible imprint on our San Diego Jewish community. She is creative, generous, fearless, and very fun! I admire her beyond words and am thrilled to be a part of honoring her by being a local chair for the upcoming Lion of Judah conference where she will receive her award."
"I am thrilled to be celebrating the enormous contributions Jess has made to our San Diego community," says long-time friend, Lion of Judah, and Federation supporter, Juli Bear, "When she moved here in 2005, she jumped right into her involvement and leadership within the Jewish community and has been an inspiration to me in my own Jewish community involvement. As members of National Young Leadership Cabinet, we traveled to Morocco together on a study mission, and we have traveled twice together to Israel. On a more personal note, she has been my half marathon partner, book club member, fellow mahj Jong player, ceramics buddy, and a very, very dear friend."
Jessica joins past San Diego Kipnis-Wilson/Friedland honorees Sherron Schuster, Andrea Oster, Elaine Galinson, Terri Bignell, Theresa Dupuis, Claire Ellman, and most recently, Lori Polin. All Kipnis-Wilson/Friedland Award recipients will be honored during the International Lion of Judah Conference in in December 2022, which will be held in Phoenix, AZ. These women share an exemplary standard of leadership and giving. Honorees are selected by their communities as "women of valor" who have shown a lifelong commitment to the Jewish world.
Preceding provided by the Jewish Federation of San Diego County
Republished from San Diego Jewish World