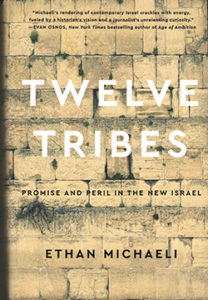 Author Ethan Michaeli is an American journalist with a knack for schmoozing with people wherever he goes. While he lives in Chicago, his older brother and parents live in Israel. He travels frequently to Israel to see his Hungarian-born parents and his brother, and whenever he does so, he likes to go touring around the country, meeting people from as many different backgrounds as possible.
He also enjoys dining in restaurants, and through the 440 pages of this book, a reader also gets descriptions and reviews of the meals he consumed on his quest to learn as much as he can about Israel by talking to ordinary citizens rather than to politicians or to media pundits.
In the course of his travels, readers are taken to Givatayim, Tel Aviv, Jerusalem, Akko, Psagot, Abu Ghosh, Jaffa, Ma'agan, Bedouin villages in the Galilee and the Negev; Dimona, Be'er Sheva, and Modi'in among other venues.  We meet Ashkenazi Jews; Palestinian Israelis of Christian and Muslim faiths; Hassidim; aging kibbutzniks, Bedouins, Iranian and Iraqi Jews, Russian immigrants, an Eritrean refugee, Ethiopian Jews. and Palestinians in the West Bank.
In an easy conversational style, Michaeli asks his interviewees about their history in the land, about the Palestinian-Israeli conflict, and, in some cases, about the history of the institutions or places with which they are associated.
Although there is an index that could be used to chart a route through Israel to see some of the places that Michaeli describes, my quibble with this book is that it was arranged in the order of the places Michaeli visited over the years, rather than in some logical geographical order.  Michaeli jumped from place to place, sometimes going north, other times south, and still other times returning for second visits, from his base in Givatayim, a Tel Aviv suburb.
It would have been more helpful for future travelers to divide the book into sections, describing locations in northern Israel; the greater Tel Aviv area; Jerusalem and surroundings; southern Israel; and Judea and Samaria (also known as the West Bank).
While the book does provide some insights into different groups of Israelis and Palestinians, the bulk of the interviews are too breezy to do much more than provide a flavor of their backgrounds and concerns.
Twelve Tribes: Promise and Peril in the New Israel by Ethan Michaeli; (c) 2021 New York; HarperCollins Books;  ISBN 9780062-688859; 440 pages including index, $29.99
Republished from San Diego Jewish World.