Base Recipe: Eva Giesener, z"l
My Mom used to make Black-N'-White Cookies. Those cookies were to simply incredible. Of course, I am biased, but in my humble opinion, they were right up there with the New York City's best delis and their famous Black-N'-White Cookies.
Mom also had a real fondness for making Meringue of many types and varieties. Just a few weeks ago, I presented her Strawberry-filled Pavlova. Mom made meringue desserts often for visiting company and always filled them with all kinds of in-season and the freshest fruit she could pick or buy.
I remember watching Mom, as a little kid, make her meringues from the special chair she always pulled up for me to be snug right up against her baking apron. Mom, in my memories, always seemed to wear the same apron. Red trim and small little flowers on the fabric. And funny, now thinking back, how did she always keep the apron clean and so spotless? Mom would not be very happy with my baking apron and I can tell you all…she certainly wouldn't see a spotless kitchen… yes not my kitchen. Oh well…hmmm LOL.
Mom loved to work her magical baking craft in her kitchen. She knew just how to make the meringue reach its stiff peaks ahh to cloud-like perfection.
When I make my meringues, I always need to remember what Mom used to say to me…here is where you add the fresh lemon juice. Right here… right before I add in the sugar Mom used to say. She would always tell me that the lemon juice always makes the meringue taste silly smooth.
As I write this, I remember how she used her Kitchen Aid stand mixer with the whisk attachment and movable level to raise and lower the bowl. Then she cracked the eggs and separated the yolks from the whites. Today as I crack my eggs, I have often wonder how come Mom never ever got the yolks into her egg whites? Just like I often do all the time. I can't tell you how many eggs over the years I have botched with yolks leaking into the egg whites. I only now wish she would have told me her secret. And if any of you want to share your special secrets post them below. I am ready to receive your mentoring.
Mom would set the speed at a med-high level, I know because I watched everything she did like a hawk. I so loved to watch the egg whites magically turn and turn eventually and mysteriously changing into cloud-like foam right before my very eyes. Even when I do my own meringues it warms my heart to think back to the times when Mom performed her meringue magic.
For this week's bake, I decided to combine two of Mom's favorites into one. Why not instead of baking Black N' White Cookies, I thought about doing something different? So, for today's bake why not bake Black-N-White Meringues? I chose to use dark and milk chocolate for the base. I then adhered the chocolate base to a spread of crushed hazelnuts. You can use any crushed nut or crushed nut combination you would like. Then another round of dipping using the white chocolate on the tips of the meringue and I topped off the tips with dried strawberry slices. Now that is a crowd-pleaser and I last made this over 18 months for one of the last PreCOVID parties I attended.
This really is an easy bake but there is also some twist to it as well. I point out the twists within the recipe below.
Enjoy trying this bake. Looking for more of my Mom's sweet recipes you can now find them along with many more food-related posts in the Jewish Culture and Holocaust Remembrance Group on Facebook. Simply join the group and enjoy the eclectic Jewish conversation taking place… https://www.facebook.com/groups/783384202591588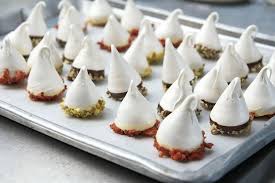 Ingredients:
Meringue:
4 1/2 ounces egg whites (from 3 large eggs)

1/2 teaspoon cream of tartar or fresh lemon juice

1 cup plus 3 tbsp granulated sugar

3/4 teaspoon cornstarch *

1/8 teaspoon baking powder *

1/2 teaspoon vanilla extract *
If you are planning to do a combination of Dark/Milk and White Chocolate coating (halve the chocolate quantities if you are doing a mix of dark and white chocolate)
Dark Chocolate Coating
1 1/3 cups hazelnuts

3 1/2 ounces dark chocolate (70% cocoa solids), chopped into 3/4-inch pieces

1 1/2 ounces milk chocolate, chopped into 3/4-inch/2-cm pieces
White Chocolate Coating
5 ounces white chocolate, chopped into 3/4-inch

2 ounces freeze-dried strawberries, finely sliced (optional)
Directions:
Preheat the oven to 350°F If making the dark chocolate coating, spread the hazelnuts out on a small, rimmed baking sheet and roast for 10 minutes. Transfer to a clean kitchen towel, draw in the sides, and then rub together to remove some of the skins.

Chop the nuts very finely—it's better to do this by hand, rather than in a food processor, where the nuts will become dusty—then set aside in a bowl.

To make the meringue, lower the oven temperature to 275°F.

Place the egg whites in the bowl of an electric mixer with the whisk attachment in place. Beat on medium-high speed for about 2 minutes, until they appear foamy. Add the cream of tartar or lemon juice and continue to beat until they are stiff but not dry or crumbly, about 30 seconds to a minute.

Mix in the sugar in a bowl, add the cornstarch and baking powder (adding both ensures a completely dry and crisp meringue), and gradually—a tablespoon at a time—add the sugar to the egg whites. Continue to beat for about 3 minutes, until the mixture is thick and glossy. Beat in the vanilla extract.

Continue to mix at med-high speed until you reach stiff peaks, and you can actually turn the mixing bowl over and meringue stays in place.

Then spoon meringue into a piping bag with a 2/3-inch tip in place.

Line two large baking sheets with parchment paper (sticking each piece of parchment firmly to the baking sheet with a bit of the meringue mix). Or use silicone mats.

Pipe small droplets—or kisses—onto each lined baking sheet; the base of each droplet should be about 1 inch wide. Raise the piping bag as you pipe, so that they are about 2 inches high, and you create a fine tip at the top.

Once all the meringues have been piped, place both baking sheets in the oven at once. Immediately lower the oven temperature to 250°F—you want it to be slightly hotter when they go in, to give the meringues a crunch—and bake for 2 1⁄2 hours.

The meringues are done when they look dry and sound hollow when tapped gently underneath.

Turn off the oven but leave the meringues inside until they are cool, propping the door open with a wooden spoon.

To make the dark chocolate coating, place the dark and milk chocolate in a medium heatproof bowl over a pan of simmering water, making sure the base of the bowl is not touching the water. Stir occasionally until melted. One at a time, dip the base of the meringues into the melted chocolate.

Spread the crushed hazelnuts on a baking pan.

Touch the chocolate bases onto the crushed hazelnuts.

Set aside to let cool then refrigerate for 15 minutes.

To make the white chocolate coating, follow the instructions for the dark chocolate topping.

When the dark chocolate hazelnut base is cold now dip the tips into the white chocolate and top with strawberry slices.

Again, let cool and refrigerate for another 15 minutes.

Now it's time to enjoy them. I bet you can't eat just one!

*
Jeffery Giesener, former CEO of SourceMob, has both public and private company experience. Today, retired and enjoying life in San Diego, he's a freelance writer who has a passion for both cinema and baking his Mom's (Of Blessed Memory) European recipes.
Recipe Research and Twist: Jeffery Giesener. Republished fom San Diego Jewish World